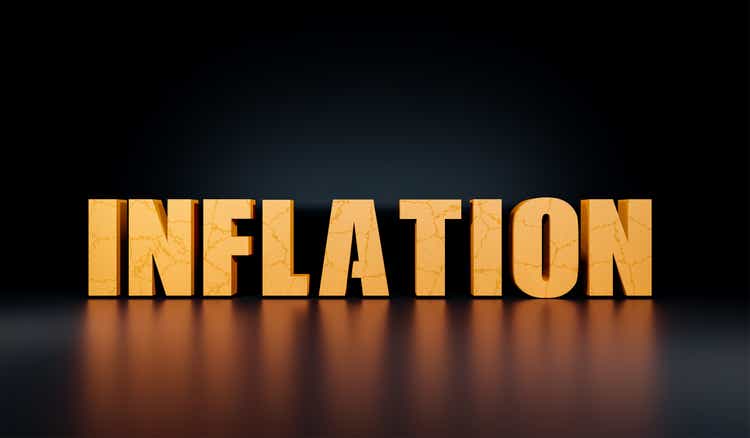 Inflationary pressures mount, resource equities prevail
Inflationary pressures mounted during the fourth quarter of 2021, with the U.S. headline Consumer Price Index ending November at its highest year-over-year level since July 1982. Supply chain issues remained pervasive, impacting nearly every sector of the global economy and adding to rising consumer price expectations and the real cost of raw materials, energy and food.
For the prior two quarters, commodities (as measured by the Bloomberg Commodity Index) have been the primary beneficiary of this inflation-fueled growth. Resource equities managed to narrow the gap in the fourth quarter, albeit marginally, with the S&P Global Natural Resources Index turning in notable gains to end the year.
Oil and gas reach near-term highs
West Texas Intermediate crude oil (WTI) closed above $80 (per barrel) in late October for the first time in six years. Similarly, Henry Hub natural gas ended October at its highest price since February 2014, at approximately $5.51 (per million btu).
Since then, both energy commodities have traded down somewhat – ending the quarter at approximately $75 per barrel and $3.30 per million btu, respectively – following the dramatic rise in Omicron variant cases of Covid and subsequent (though only initially) tempered growth expectations for the first few months of 2022, in addition to a warm start to winter.
Oil and gas markets have remained resilient, though, relying on the notion that overly-restrictive measures – such as those imposed on manufacturing activity and travel – are less likely to be implemented and/or are, at least, less likely to impact overall demand as they did earlier in the pandemic.
U.S. oil producers' commitment to return capital to shareholders also remained largely intact during the quarter, thanks to companies' moderated production growth, ongoing debt reduction efforts, and persistent focus on operational efficiency gains. Though sustained higher oil prices have undoubtedly been a considerable tailwind for companies seeking to return capital, unconventional oil and gas producers in the U.S. have also been able to maintain or even reduce marginal production costs – even in the face of rising equipment and labor costs due to inflation.
Renewable energy still facing near-term, uphill battles
Renewable energy markets – including U.S. solar and wind energy equipment manufacturers – continued to battle supply chain volatility and rising input costs, facing an ever-increasing number of delays or cancelations of installation projects. Sporadic, Covid-led closures at manufacturing plants across China fueled a spike in polysilicon prices while the ongoing U.S./China trade policy debate to some extent, continued to hinder imports of related source materials.
Amidst the supply malaise, President Joe Biden's approved, bipartisan infrastructure deal – signed in November – has laid plans for additional green infrastructure spending in the U.S., including funding for renewable energy programs, battery storage and clean energy technology innovation projects. However, December saw the delay in the Build Back Better legislation and proposed changes to renewable net metering regulations in California, which more than offset the perceived benefits of the infrastructure bill.
"Wheels up" for diversified miners?
Though most base metals ended up on the three-month period, nearly all were subject to considerable price volatility on shifting supply and demand dynamics throughout the quarter. Concerns over China's cooling economy – on slumping domestic property markets, slowing industrial output and a rise in the Omicron variant of Covid – manifested early in the third quarter and were at least partially to blame for price volatility throughout the metals complex.
Perhaps most notable was the impact that China's muted outlook had on copper, which experienced a sharp retreat from another one of its near-record highs in October. Indications of potentially balanced markets for some metals in 2022 – such as in copper and aluminum – also aided, considerably, in price movement.
Meanwhile, "green metals" (i.e., metals vital to the industrial-level buildout of renewable energy technologies as well as mass production of low-carbon transportation), such as nickel and cobalt, reached near-term highs, fueled by declining global inventories and persistent demand growth from electric vehicle markets.
By and large, diversified mining companies have followed in the footsteps of the underlying base and industrial metals commodity markets. Companies continuing to differentiate themselves during the quarter (and for most of 2021) have been those projecting modest growth expenditures alongside (anticipated) healthy dividends in 2022.
Ags turn in mixed-bag
Grains, led by corn, rallied off their 2021 lows during the quarter. Surging ethanol production gave a significant boost to corn during the fourth quarter, while increasingly adverse climate predictions for the 2022 planting season (due to a La Nina weather event) may have contributed to rising prices across all grains. [Note: La Nina typically portends an increased likelihood for drier weather in parts of the crop-producing regions of the U.S. and South America, where a vast majority of the world's grains are grown]
Domestic protein markets, which typically benefit from lower grain prices (with corn being a major input cost for primary animal feed), were doubly impacted both by rising corn prices, as well as by slowing demand in China for pork and chicken products.
Year-to-date, fertilizer producers remain among the primary beneficiaries of rising crop prices, with healthy farm revenues leading to increased purchases of agricultural chemicals.
Portfolio Positioning and Performance
The VanEck Global Resources Fund (the Fund) underperformed the S&P North American Natural Resources Sector Index on the quarter, returning 7.19% versus 8.12%, respectively, during the three-month period. On both an absolute and relative basis, the largest contributors came from Base & Industrial Metals, Oil & Gas, and Agriculture, while the largest detractors came from Renewable & Alternative Energy.
Top Quarterly Contributors
Holding
End Weight
Est. Contribution
Comment
Freeport-McMoRan
4.32%
0.99%
In addition to high copper prices, the company continued benefit from its multi-year restructuring, in which not only has operational efficiency been drastically improved, but also net debt has plummeted, thereby placing the company on even stronger and firmer financial footing for the future.
First Quantum Minerals
4.06%
1.00%
In addition to high copper prices and its own high growth in the space, the company also continued to benefit from the deleveraging story, with its resulting increase in financial strength.
Devon Energy
3.30%
0.73%
The company's variable dividend* policy has been widely lauded by the market as one of the most sensible approaches to return of capital for U.S. E&Ps today – particularly with oil prices retaining their near-term strength, helping to expand margins and freeing up extra cash for companies with low-to-zero net debt.
Top Quarterly Detractors
Holding
End Weight
Est. Contribution
Comment
Sunrun
2.06%
-0.60%
The macroeconomic backdrop for renewables remains somewhat in flux as policy debate over a green infrastructure deal continues to drag on in the U.S. Continued uncertainty around regulatory changes in California and disappointment around Build Back Better were two strong headwinds.
Stem Inc.
1.45%
-0.39%
For Stem, too, continued uncertainty around regulatory changes in California and disappointment around Build Back Better were two strong headwinds.
Chart Industries
1.83%
-0.37%
The company had a great third quarter, but this was followed by a bad fourth quarter.
Source: FactSet; VanEck. Data as of December 31, 2021.*Variable dividend: Tied to the strength of oil and/or gas prices and "carved out" from free cash flow, allowing investors to participate directly in a rising oil price environment. Contribution figures are gross of fees, non-transaction based and therefore…


Read More: Inflation Heat Keeps Resources Warm