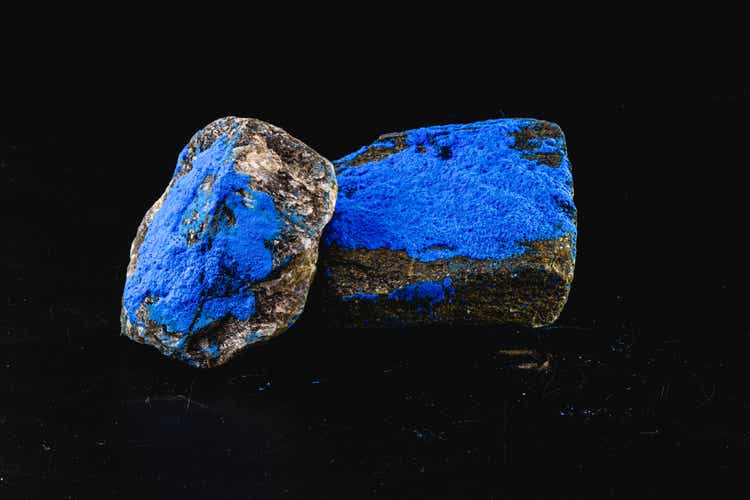 Welcome to the January 2022 cobalt miner news. The past month saw a slower month for cobalt news with cobalt prices slightly higher.
Cobalt price news
As of January 24, the cobalt spot price was slightly higher at US$31.71/lb, from US$31.42/lb last month. The LME cobalt price is US$71,145/tonne. LME Cobalt inventory is 261 tonnes, down from 271 last month. More details on cobalt pricing (in particular, the more relevant cobalt sulphate), can be found here at Benchmark Mineral Intelligence or Fast Markets MB.
Cobalt spot prices – 5-year chart – USD 31.71
Cobalt demand v supply forecasts
UBS cobalt supply and demand forecast – Growing deficits from 2023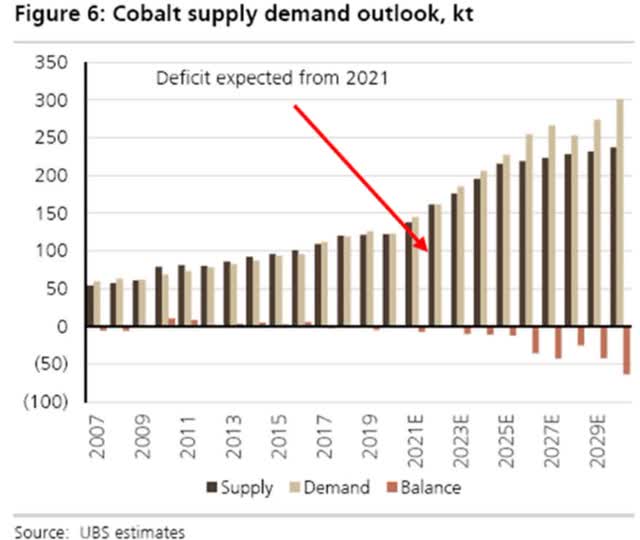 Cobalt demand v supply forecast – Deficits starting in 2026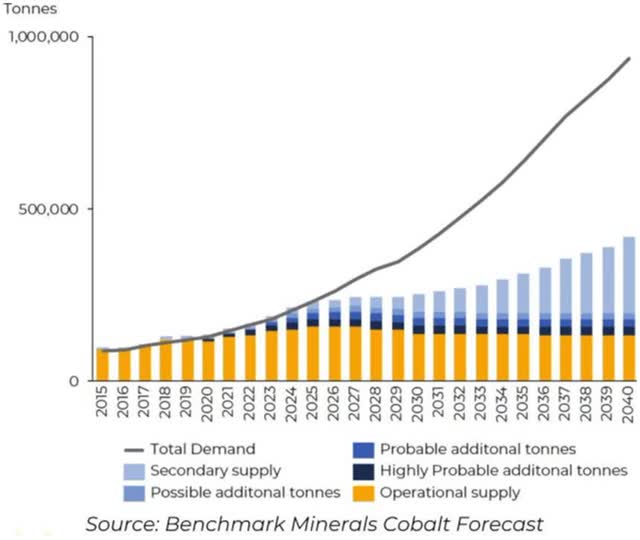 UBS's EV metals demand forecast (from Nov. 2020)
UBS forecasts Year battery metals go into deficit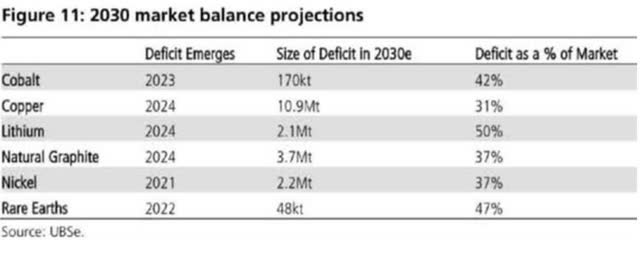 2021 IEA forecast growth in demand for selected minerals from clean energy technologies by scenario, 2040 relative to 2020 – Increases Of Lithium 13x to 42x, Graphite 8x to 25x, Cobalt 6x to 21x, Nickel 7x to 19x, Manganese 3x to 8x, Rare Earths 3x to 7x, And Copper 2x to 3x
Cobalt market news
On December 29, Argus Media reported:
Viewpoint: Aero support increases for US cobalt. Rising US cobalt prices are leading some consumers to change their buying habits as market participants expect growing US aerospace and lithium-ion battery demand to provide further support in 2022… One reason that market participants anticipate higher cobalt prices is because of increased demand from aerospace sectors that were hit hard by the Covid-19 pandemic and related restrictions. This sentiment comes as Boeing, one of the largest aircraft manufacturers, plans to increase production of the 737 MAX to 31 planes/month in early 2022 from its recent rate of 19 planes/month at the end of the third quarter.
On January 3, Mining Weekly reported:
Cobalt price to continue rising over next three years – Fitch Solutions… The end use of cobalt is primarily in portable electronics (36.3% of global consumption), such as smartphones and laptops, while automotive applications also account for a big share (23%). "We expect the latter to drive cobalt demand in the coming decades," says Fitch Solutions. As for cobalt sulphate prices, Fitch Solutions expects these to remain on an uptrend in the coming two to three years as demand from battery manufacturers continues to outstrip supply despite a healthy pipeline of cobalt sulphate projects set to come online between 2023 and 2024 onwards. This will support production and investment into new projects… Beyond 2024, Fitch Solutions expects cobalt sulphate prices to head higher as demand from EV batteries continues to rise. Increased battery demand for automotive manufacturing will be accompanied by strengthened demand for cobalt.
On January 6, Investing News reported:
Cobalt Outlook 2022: Rapid EV growth to drive demand, resilience in prices… In 2022, Benchmark Mineral Intelligence expects cobalt demand from the battery sector to grow by over 30 percent, supported by new EV model launches and governmental legislation… In terms of supply, output is expected to increase once again in 2022……Output from the DRC, the top-producing country, is expected to come from Glencore's (LSE:GLEN) (OTCPK:GLCNF) (OTCPK:GLNCY) Mutanda mine restart, increased output at Katanga and expansions at Tenke Fungurume… A key trend seen in the space was longer-term contracts on the back of rising prices… All in all, Benchmark Mineral Intelligence is expecting the market to transition into a slight surplus in 2022. Meanwhile, CRU believes the market will be finely balanced in 2022 compared to the relatively wide deficit in 2021.
On January 10, the Financial Times reported:
BHP to invest $100m in Tanzania nickel supply. Miner's backing of Kabanga project underlines shift in strategy amid growing demand for battery metals… Kabanga is regarded as the world's largest development-ready, high-grade nickel sulphide deposit. However, it is in a remote location in the north-west of the country, close to the border with Burundi and Rwanda, and lacks infrastructure… The project's new owner, Kabanga Nickel, anticipates first production in 2025 and says the deposit has the resources to churn out at least 40,000 tonnes a year of battery grade nickel for more than three decades. It will also produce 4,000 tonnes a year of cobalt…
On January 12, Mining.com reported:
Singapore bourse to start cobalt, lithium contracts in H1 2022… The bourse is set to launch contracts in cobalt metal, cobalt hydroxide, lithium carbonate and lithium hydroxide, subject to regulatory approval, according to an exchange statement. SGX will partner with Fastmarkets, the price reporting agency for these products, it added… the start of the new derivatives will allow "market participants to undertake price risk management of key raw materials used in car production," said Head of Commodities William Chin.
On January 12, Yahoo Finance reported:
Plan for decades of high commodity prices, BlackRock says. Commodities prices may stay high for decades as mining companies struggle to keep up with demand from the energy transition, according to BlackRock Inc.'s Evy Hambro… His bullish comments echo those of banks including Goldman Sachs Group Inc., which last week said that a commodities supercycle has the potential to last for a decade.
Cobalt company news
No news for the month.
In December 2021, it was reported that Glencore cobalt production is "forecast at 35,000 mt in 2021, 48,000 mt in 2022, and 50,000 mt/year in 2023 and 2024."
China Molybdenum [HKSE:3993] [SHE:603993] (OTC:CMCLF)
No significant news for the month.
Zheijiang Huayou Cobalt [SHA:603799]
No news for the month.
Jinchuan Group International Resources [HK:2362]
No news for the month.
Chemaf (subsidiary of Shalina Resources)
On January 19, BNN Bloomberg reported:
Trader Trafigura strikes $600 million cobalt deal in Congo. Trafigura will provide $600 million in financing for Shalina Resources' Chemaf unit, which produces the metal in the DRC. In return, Trafigura will market the cobalt hydroxide produced from Chemaf's assets… Trafigura said Wednesday that Shalina will use the funds to complete the mechanization of its Mutoshi mine as well as expanding a processing plant in Lubumbashi. Trafigura said it intends to syndicate the majority of its financing to international banks.
GEM Co Ltd [SHE: 002340]
No news for the month.
Investors can read more about GEM Co in my Trend Investing article: "A Look At GEM Co Ltd – The World's Largest Battery Recycling Company" when GEM Co was trading at CNY 5.08.
Eurasian Resources Group ("ERG") – private
ERG owns the Metalkol facility in the DRC where ERG processes cobalt and copper tailings with a capacity of up to 24,000 tonnes of cobalt pa.
No significant news for the month.
No news for the month.
Sumitomo Metal Mining Co. (TYO:5713) (OTCPK:SMMYY) (OTC:STMNF)
On January 19, Sumitomo Metal Mining Co. announced:
Establishment of a world–first horizontal material recycling process that recovers lithium from used lithium–ion batteries and recycles it as battery materials. Achieved through joint development with Kanto Denka Kogyo. The process we have jointly-developed uses KDK's metallurgy processes to recover high-purity lithium compounds from the slag containing lithium that occurs in our secondary battery recycling process. These high-purity lithium compounds are then reused in LIBs.
MMC Norilsk Nickel [LSX:MNOD] [GR:NNIC] (OTCPK:NILSY)
On December 28, MMC…