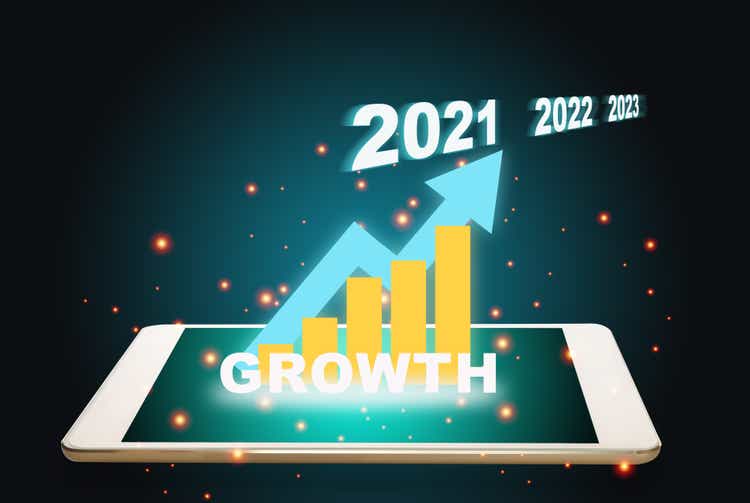 Brutal selloffs and market volatility edging towards correction territory have investors wondering where I put my money and are safe havens the way to go? Tech stocks and high-growth stocks have flourished over the last decade. As many investors look towards stability and top value stocks, some growth stocks with solid fundamentals (and great valuations) are attractive following the latest market declines. With expectations for tighter monetary policy, some growth-oriented stocks may still insulate from the high interest-rate environment. We will highlight five stocks to buy in a volatile market with solid fundamentals in varying sectors.
1. Freeport-McMoRan Inc. (FCX
)
Freeport-McMoRan Inc. (FCX) has been on our buy list for many years and engages in the mining of primarily copper and other mineral exploration and development. With an average valuation grade of C-, this stock still comes at a reasonable price point below $40/share, and the stock has rallied +36% over the last 52-weeks. Robust financials over the last few years coupled with growth prospects, FCX continues to outperform in its sector. The release of its recent Q4 results demonstrates this is a good stock for investors.
Released this week, FCX Q4 results delivered an EPS of $0.96, beats by $0.02. Consolidated sales in 2021 included 1.02B pounds of copper and 395 thousand ounces of gold. In contrast, consolidated sales for Q1 of 2022 are projected to be at approximately 4.3B pounds of copper 1.6M ounces of gold. In the Earnings Release, Richard C. Adkerson, FCX Chairman, and CEO said, "I am incredibly proud of our Freeport team's stellar performance during 2021 to deliver growth in volumes, solid cost, and capital management in a challenging environment and to advance our sustainability objectives. We are positioned for a bright future as a leading, responsible, long-term supplier of copper to support the global economy and the transition to clean energy."
FCX Profitability
With 2021 copper prices and demand soaring and as the available inventory and supply dwindles, FCX has forecasted massive adjusted EBITDA profits and cash flows.
An overall A+ Profitability Grade and EBITDA at nearly 45% and cash from operations at 6.76B compared to the sector median 370.3M, this stock continues to trade on highs and has significant momentum going forward. As fellow SA Author Stone Fox Capital writes, "Ultimately, the better balance sheet and capital returns help cushion any downside risk while surging demand should boost the stock to record highs."
2. Century Communities, Inc. (CCS)
A name that you may not know, Century Communities, Inc. (CCS) is one of the top homebuilders in the U.S., together with its subsidiaries, involved in the design, development, and construction of single-family residences. The housing boom continues, and homebuilders and companies like CCS are an excellent way for retail investors to get a sliver.
Despite Rising Rates, Housing Starts Are At A 5-Year High
Trading below $70/share with a forward P/E of just 4.72x, more than 65% below the sector, CCS comes at a great discount. Its A+ PEG ratio of 0.08x, more than 90% below the sector, is also a strong indication of its value.
CCS Growth and Profitability
Recent price changes and earnings estimate revisions indicate this is a great stock pick. Third quarter earnings led to 4 FY1 Up revision in the last 90 days with zero down revisions, and EPS of $3.63 beats by $0.57. CCS delivered 7,890 homes approaching Q3, an increase of 19% with an average sales price of $365,000, which was a 16% YoY increase.
Q3 net income increased 129% to $114 million compared to net income of $49.8 million in the previous year quarter. CCS Q3 EBITDA increased nearly 90% to $163 million, with YTD figures more than double that of the prior year's three quarters, and home sales revenues for Q3 came to $917.3M, an increase of 21% compared to $760.2M the prior year. "We are revising our full year revenue guidance to be in the range of $3.9 billion to $4.1 billion and home deliveries to be in the range of 10,750 to 11,500. Our impressive year-to-date results have set us up to achieve our full year objectives and continue to deliver top line growth, profitability expansion and improved operational performance into 2022 and beyond," said David Messenger, CCS CFO in the Q3 Earnings Conference.
3. Onto Innovation Inc. (ONTO)
Onto Innovation Inc (ONTO) is a U.S. semiconductor company that brings together artificial intelligence (AI) capabilities for innovative solutions in improving products and their reliability. This rallying stock and success in the semiconductor space over the last few years has allowed ONTO to trade 23.19x forward earnings, slightly higher than the sector median of 22.62x. Over five years, the stock has seen an increase of +245%, and because the stock has jumped higher, so have the valuations, thus the C- valuation grade, which is still at a reasonable price point below $100/share.
Onto Growth
ONTO has experienced tremendous growth, surging profit levels and double-digit earnings that have allowed the company's EPS expectations to grow 20% this year, well above the industry average. The latest Q3 Earnings report was also great, with both top-and bottom-line beat, EPS of $0.98 beats by $0.06; Revenue of $200.59M beats by $5.25M and 4 FY1 Up revisions, and high demand for semiconductors continues.
As the stock continues to trend higher, I consider it a wise pick and to stay the course. As fellow SA Author MarketGyrations writes, "I was bullish ONTO heading into the Q2 report and remain so since nothing has changed that warrants a change of stance. The bull case for ONTO is as strong as ever."
4. Petrobras (PBR)
Petrobras (PBR), a Brazilian oil and gas company that engages in the drilling, refining, and processing of crude oil, natural gas, and other liquid hydrocarbon products is an excellent value purchase, and I also recently wrote about this being a Top 5 Value Stock.
At a price point under $14, PBR comes at an extreme discount. It possesses an A+ Valuation grade with Forward P/E of 5.94x, 54% below the sector, and an A for the PEG ratio of 0.25x. Compared to the broader market and in this environment, PBR is a bargain play with potential expansion into the renewable energy space. In addition to strong profitability and a solid valuation framework, 21Q3 EPS of $0.47 beat analysts' estimates by $0.14. This earned the company a SA grade of A- for Earning Revisions and further supports the overall Growth grade of A and its A+ Profitability Grade. "Petrobras is well placed to take advantage of the sector's return to profitability, given it relies on tankers to distribute its fuel, it is an industry leader in terms of profitability, does not have any significant geopolitical risk," writes SA Author Mike Thomas in Petrobras is Well-Placed To Take Advantage of Growth In Global Oil Demand.
With growing oil demand and reopening of economies, this stock stands to benefit. Oil rallies this week on robust demand, with WTI above $87. In addition to signing a production sharing agreement in 2021, PBR exceeded its full-year guidance, producing 2.77M boe/day plus 1.95M boe/day in offshore pre-salt reserves, equivalent to 70% of the company's total output for the year.
WTI is Hitting A 5-Year High
With gross profit margins of 58.62% and EBITDA of 55.49%, the future appears bright for PBR. Many profitability metrics like ROE, Net Income Margin, and ROC scored A+ grades "The Company is getting stronger and healthier, and being able to substantially contribute to the Brazilian society…we had a very solid operational quarter that resulted, of course, in an important generation of cash from our operations of $10.5…


Read More: Top 5 Growth Stocks For a Volatile Market