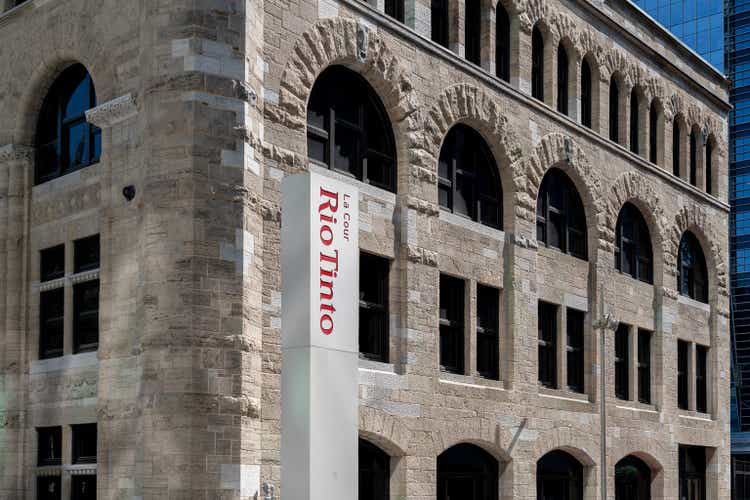 Thanks to significantly higher prices for its core products of iron ore, aluminium, and copper, the company's 2021 dividend comes to more than $10.
That's almost twice the previous record dividend and it gives Rio Tinto (NYSE:RIO) a dividend yield of almost 17% at its current share price of $62.
In GBP that's a dividend of almost £8.50 from shares costing £51 each, which is an eye-wateringly impressive yield.
Unfortunately, that huge dividend includes special dividends which are unlikely to be paid out on the same scale again. However, even if we ignore the special dividend, Rio Tinto still has a dividend yield of 13% from its ordinary dividend alone.
Of course, if you know anything about investing, you'll know that buying a stock simply because it has a very high dividend yield is usually a very bad idea.
Very high yields are often followed by very large dividend cuts, so instead of focusing solely on dividend yields, it's better to have a broader view of a company and its ability to pay dividends over the long term.
With that in mind, in the rest of this review, I'll walk you through how I approach the task of estimating Rio Tinto's future dividends, ending with an estimate of its fair value and how much I might invest in the company at its current price.
To set the stage, let's begin with a little history.
Rio Tinto has been one of the world's leading mining companies for 200 years
Rio Tinto gets its name from the Rio Tinto River in Spain. The name means red river and, because the river contains large quantities of dissolved iron, it is literally red. The river contains Iron because the surrounding area is rich in minerals and metals, including iron, copper, gold, and silver, and it has been mined for at least 5,000 years.
After a period of disuse, the Spanish government restarted the mines in 1724, but their operations were inefficient. In 1873, the mines were sold to a consortium of investors led by Deutsche Bank (DB), and the Rio Tinto Company was born.
After World War I, the company began to diversify away from Spain through a series of joint ventures and acquisitions, and eventually it sold most of its Spanish operations in 1954.
Over the decades, these deals took Rio Tinto's operations into Africa, Canada, and other countries, most notably Australia. In 1962, Rio Tinto Company merged with Consolidated Zinc, a significant Australian mining business, and in 1995 they became a dual-listed company in the UK and Australia and that structure remain in place today.
Rio Tinto's operations are now focused on mining iron ore, aluminium (bauxite), and copper, plus a range of other minerals and metals such as gold, silver, uranium, and lithium. Over the last decade, around 80% of the company's earnings came from Iron ore, 10% came from aluminium, 5% from copper, and 5% from other minerals and metals.
Like most miners, Rio Tinto's growth has been volatile
Understanding a company's long-term growth track record is important because it can give us useful insights into its competitive strengths and potential for future growth.
Unfortunately, this becomes more difficult if the company's performance has been volatile, and if you know anything about commodities, you'll know their prices can be extremely volatile.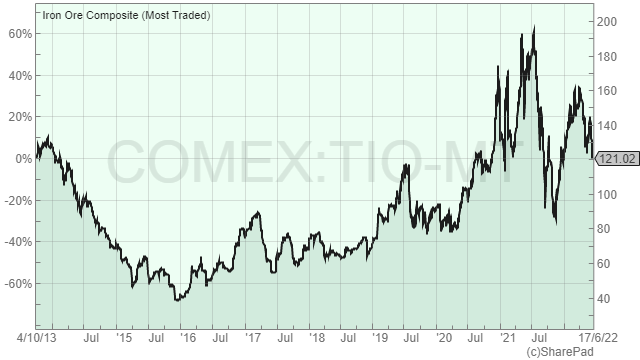 The chart above shows the price of Rio Tinto's core product (iron ore) falling by more than 70% from 2013 to 2016 and then increasing by almost 400% from 2016 to early 2021.
Compare that to Unilever (UL) (which is a holding in my personal portfolio and the UK Dividend Stocks Portfolio), where the price for Hellmann's Mayonnaise or Dove Soap rarely changes by more than a percent or three in any given year.
The volatility of iron ore prices makes it hard to assess Rio Tinto's underlying growth because its progress from one year to the next is primarily driven by the ups and downs of metal prices rather than whether the company sold more iron ore, aluminium, and copper.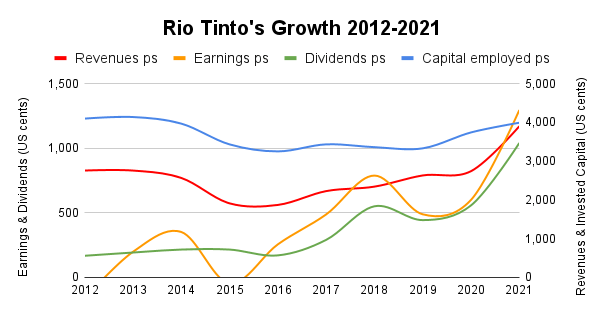 As you can see from the chart above, Rio Tinto's capital employed (equity + debt) and revenues followed a broadly similar path to iron ore prices over the last decade. They declined from 2013 to 2015 and then slowly recovered through to 2021. But the story for earnings and dividends is very different because earnings and dividends grew extremely rapidly over the last ten years.
As ex-Bank of England Governor Mervyn King might say, what is going on here?
The first thing to note is that Rio Tinto's earnings were negative in 2012 and 2015. This was caused by various exceptional expenses, primarily a series of write-downs for previously acquired aluminium assets totalling a mind-boggling $20 billion (we'll revisit this huge mistake later).
We can strip out these non-cash and non-operational expenses by replacing reported earnings with the company's own "underlying earnings" figure. I usually ignore underlying earnings because in most cases they provide an excessively rose-tinted view of a company's performance, but in this case, it could prove useful. Here's the updated chart.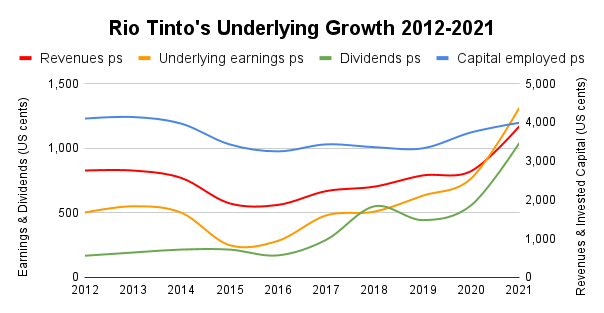 We can now see that revenues, underlying earnings, and capital employed all declined and recovered broadly in line with iron ore prices. This means that even over a period as long as a decade, Rio Tinto's results have been driven by iron ore prices more than anything else.
This is bad news because commodity prices are volatile and unpredictable. If Rio Tinto's results are primarily driven by commodity prices, how can we say anything sensible about its potential for future dividends and growth? Fortunately, there might be a way.
Instead of looking at Rio Tinto's financial results, which are driven by unpredictable commodity prices, we can look at how many tonnes of iron ore, aluminium, and copper it has produced over the years.
Production volumes have very little to do with commodity prices from one year to the next, so looking at production volumes should tell us quite a lot about the underlying growth rate of the company's productive capacity, with the volatility of commodity prices largely filtered out.
Operationally, Rio Tinto is a very stable business
Here's a chart showing Rio Tinto's production volumes, focusing on its three main products of iron ore, aluminium (bauxite), and copper.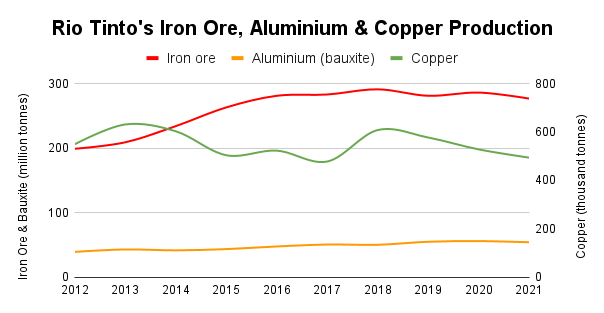 The first thing to note is that Rio Tinto's production volumes have been very stable from one year to the next. This is good because it means we may be able to forecast the company's future production volumes with a reasonable degree of confidence.
Looking at each of the three core products in turn:
Iron ore production grew by an average of 4% per year, although growth has stalled since 2018
Aluminium production grew steadily by an average of 4% per year
Copper production was more volatile and declined by an average of 1% per year
As a quick sanity check, here are the production volumes from the previous ten years.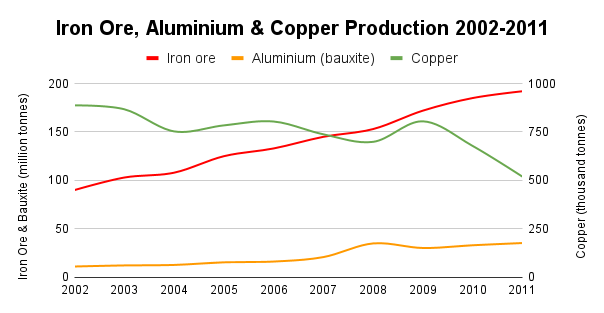 What this chart shows is another decade of steady production, so it seems reasonable to assume that Rio Tinto's production volumes will remain stable in the future.
Interestingly, the growth trends from the 2012-2021 period were already in place during the 2002-2011 period, only more so. For example, during 2002-2011:
Iron ore production grew by an average of 8% per year (vs 4% from 2012-2021)
Aluminium production grew by an average of 15% per year (vs 4% from 2012-2021)
Copper production declined by an average of 3% per year (vs a 1% annual decline from 2012-2021)
The 15% growth rate for aluminium production from 2002 to 2011 is particularly impressive, but much of this was due to the 2007 acquisition of Alcan for $38 billion. Unfortunately, this acquisition turned out really badly. The $38 billion price tag was way too high and led to the $20 billion write-downs I mentioned previously.
When the acquisition was made, Rio Tinto was earning an average of $4 billion per year, so the purchase price was ten times Rio Tinto's average earnings.
That breaks one of my rules of thumb by an enormous margin:
Rule of thumb: Be wary of companies that spend more on acquisitions than they make in profit
Turning back to Rio Tinto's…


Read More: Should You Buy Rio Tinto For Its 17% Dividend Yield? (undefined:RIO)