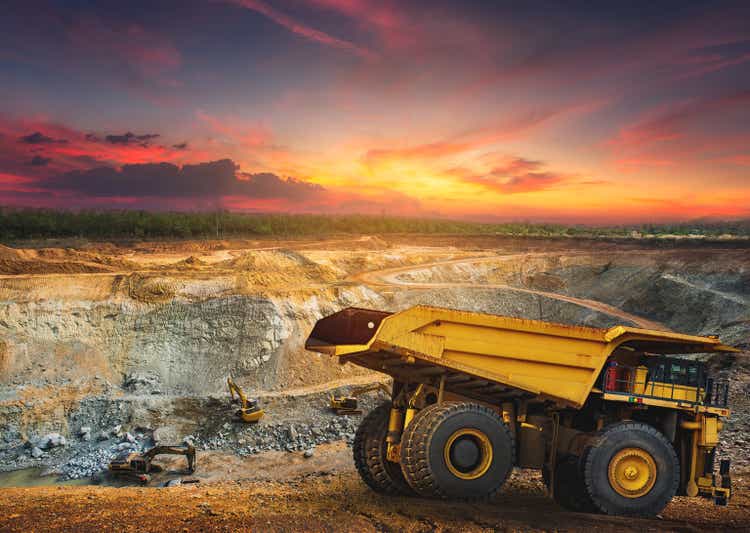 Barrick Gold (NYSE:GOLD) is scheduled to announce Q2 results on Monday, Aug. 8, before market open.
Consensus EPS estimate is $0.22 (-24.1% Y/Y) and consensus revenue estimate is $2.85B (-1.4% Y/Y).
Over the last 2 years, GOLD has beaten EPS estimates 88% of the time and revenue estimates 50% of the time.
Over the last 3 months, EPS estimates have seen 11 downward revisions. Revenue estimates have seen 2 upward revisions and 2 downward.
GOLD reported prelim. Q2 production of 1.04M oz of gold and 120M lbs of copper, which it said was good enough to maintain FY output guidance.
Q2 gold production was higher sequentially due to stronger performance across its portfolio. Q2 copper output was higher than Q1, driven by Lumwana as planned.
GOLD shares inched higher after the miner reported Q1 results that were slightly above Street estimates. Q1 gold production fell 10.1% to 990K oz, hurt by lower output at its Carlin and Cortez mines in Nevada.
At the time, GOLD said it expected stronger performance in H2 2022.
GOLD also doubled its quarterly dividend to $0.20/share, including a $0.10/share performance dividend.
SA contributor Fun Trading in an analysis said decent production should help GOLD's Q2 results, but rated the stock Hold.
Shares of GOLD have fallen 16.4% YTD.
Recent news:
GOLD is nearing a final framework deal with Pakistan's govt. to develop the $7B Reko Diq copper-gold deposit, which has been on hold since 2011 due to a dispute over its licensing process.
GOLD extended the termination date of its $3B revolving loan by a year and incorporated sustainability-linked metrics to the loan.
GOLD CEO Mark Bristow ruled out a potential purchase of Kinross Gold (KGC), Globe & Mail reported, but didn't rule out another large-scale acquisition in the next few years.


Read More: Is Barrick Gold on track for another earnings beat in Q2 on higher production?