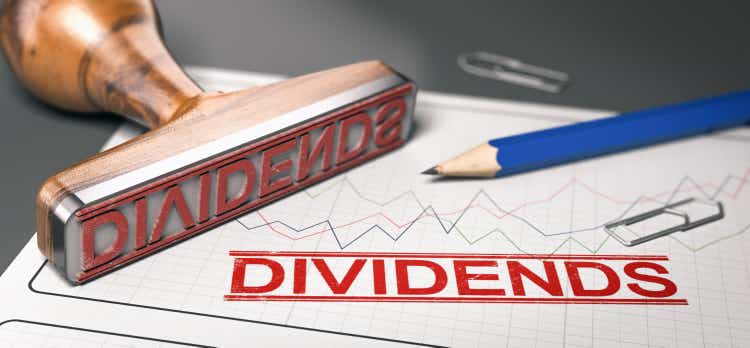 The market has bounced back in the last few weeks, but the direction of the market remains uncertain. The elephant in the room is the 40-year high inflation. The Fed has been raising the short-term interest rates with a 75-basis point increase every about six weeks. However, even with the most recent increase, rates are still in the range of 2.25% – 2.50%, while inflation is running at over 9%. So, is it too late and too little? The Fed really has a very difficult choice here, either let the inflation run amok or increase the rates to a very high level and kill the economy with a recession. Either way, markets will likely remain uncertain and volatile for quite some time to come.
As long-term DGI investors, we need to pay attention to the quality of companies that we invest in and the price we pay. Naturally, it helps to buy such companies when they're being offered relatively cheap. The goal of this series of articles is to find companies that are fundamentally strong, carry low debt, support reasonable, sustainable, and growing dividend yields, and also trade at relatively low or reasonable prices. These DGI stocks are not going to make anyone rich overnight, but if your goal is to attain financial freedom by owning stocks that should grow dividends over time, meaningfully and sustainably, then you are at the right place. We believe in keeping a buy list handy and dry powder ready so that we can use the opportunity when the time is right. Besides, we think, every month, this analysis is able to highlight some companies that otherwise would not be on our radar.
This article is part of our monthly series, where we scan the entire universe of roughly 7,500 stocks that are listed and traded on US exchanges, including over-the-counter (OTC) networks. However, our focus is limited to dividend-paying stocks. We usually highlight five stocks that may have temporary difficulties or lost favor with the market and offer deep discounts on a relative basis. However, that's not the only criteria that we apply. While seeking cheaper valuations, we also demand that the companies have an established business model, solid dividend history, manageable debt, and investment-grade credit rating. Please note that these are not recommendations to buy but should be considered as a starting point for further research.
This month, we highlight three groups of five stocks each that have an average dividend yield (as a group) of 4.33%, 6.25%, and 7.17%, respectively. The first list is for conservative and risk-averse investors, while the second one is for investors who seek higher yields but still want relatively safe dividends. The third group is for yield-hungry investors but comes with an elevated risk, and we urge investors to exercise caution.
Notes: 1) Please note that when we use the term "safe" regarding stocks, it should be interpreted as "relatively safe" because nothing is absolutely safe in investing. Also, in our opinion, for a well-diversified portfolio, one should have 15-20 stocks at a minimum.
2) All tables in this article are created by the author unless explicitly specified. The stock data have been sourced from various sources such as Seeking Alpha, Yahoo Finance, GuruFocus, and CCC-List (dripinvesting).
The Selection Process
Note: Regular readers of this series could skip this section to avoid repetitiveness. However, we include this section for new readers to provide the necessary background and perspective.
Goals:
We start with a fairly simple goal. We want to shortlist five companies that are large-cap, relatively safe, dividend-paying, and trading at relatively cheaper valuations in comparison to the broader market. The objective is to highlight some of the dividend-paying and dividend-growing companies that may be offering juicy dividends due to a temporary decline in their share prices. The excess decline may be due to an industry-wide decline or some kind of one-time setbacks like some negative news coverage or missing quarterly earnings expectations. We adopt a methodical approach to filter down the 7,500-plus companies into a small subset.
Our primary goal is income that should increase over time at a rate that at least beats inflation. Our secondary goal is to grow the capital and provide a cumulative growth rate of 9%-10% at a minimum. These goals are by and large in alignment with most retirees and income investors as well as DGI investors. A balanced DGI portfolio should keep a mix of high-yield, low-growth stocks along with some high-growth but low-yield stocks. That said, how you mix the two will depend upon your personal situation, including income needs, time horizon, and risk tolerance.
A well-diversified portfolio would normally consist of more than just five stocks and preferably a few stocks from each sector of the economy. However, in this periodic series, we try to shortlist and highlight just five stocks that may fit the goals of most income and DGI investors. But at the same time, we try to ensure that such companies are trading at attractive or reasonable valuations. However, as always, we recommend you do your due diligence before making any decision on them.
Selection Criteria:
The S&P 500 currently yields roughly 1.50%. Since our goal is to find companies for a dividend income portfolio, we should logically look for companies that pay yields that are at least similar to or better than the S&P 500. Of course, the higher, the better, but at the same time, we should not try to chase very high yields. If we try to filter for dividend stocks paying at least 1.50% or above, nearly 2,000 such companies are trading on U.S. exchanges, including OTC networks. We will limit our choices to companies that have a market cap of at least $10 billion and a daily trading volume of more than 100,000 shares. We also will check that dividend growth over the last five years is positive, but there can be some exceptions.
We also want stocks that are trading at relatively cheaper valuations. But at this stage, we want to keep our criteria broad enough to keep all the good candidates on the list. So, we will measure the distance from the 52-week high but save it to use at a later stage.
Criteria to Shortlist:
Market cap $10 billion ($9.5 billion in a down market)
Dividend yield 1.50% (some exceptions are made)
Daily average volume 100,000
Dividend growth past five years = 0.
By applying the above criteria, we got over 500 companies.
Narrowing Down The List
As a first step, we would like to eliminate stocks that have less than five years of dividend growth history. We cross-check our current list of over 500 stocks against the list of so-called Dividend Champions, Contenders, and Challengers originally defined and created by David Fish. Generally, the stocks with more than 25 years of dividend increases are called dividend Champions, while stocks with more than ten but less than 25 years of dividend increases are termed, Contenders. Further, stocks with more than five but less than ten years of dividend increases are called Challengers. Also, since we want a lot of flexibility at this stage, we include some companies that pay lower dividends than 1.50% but otherwise have a stellar dividend record and growing dividends at a fast pace.
After we apply all the above criteria, we're left with 271 companies on our list. However, so far in this list, we have demanded five or more years of consistent dividend growth. But what if a company had a very stable record of dividend payments but did not increase the dividends from one year to another? At times, some of these companies are foreign-based companies, and due to currency fluctuations, their dividends may appear to have been cut in US dollars, but in reality, that may not be true at all when looked at in the actual currency of reporting. At times, we may provide some exceptions when a company may have cut the dividend in the past but otherwise looks compelling. So, by relaxing some of the conditions, a total of 72 additional companies were considered to be on our list. We call them category 'B' companies. After including them, we had a total of 343 (271 +…


Read More: 5 Relatively Safe And Cheap Dividend Stocks For August 2022